Light wearable pitchs
Unique sales experience
Cross-device
STEP IN THE NEW SALES WITH...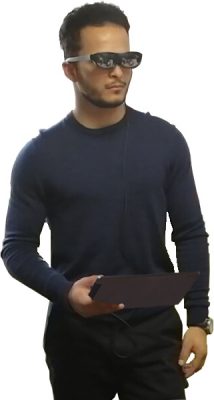 A new way to present during Field Sales, customers are equipped with Augmented Reality glasses and enjoy a unique experience.
Demonstrations enable to catch all details in one sight, and help the salesman in its pitch. Plus, it creates a unique first impression that the client will keep in mind.
Prospects interact with the virtual content, not only to discover new features, but also because AR arouse interest.
A model based on the salesman, who pushes content to evoke customers reactions, in order to engage a discussion around the most relevant topics for the client.
Make a difference during sales sessions with an innovative solution
Each salesman tracks actions and can act for empowerment
Time in content management
Content can be updated at any time on all device fleet from any computer.
Premium clients are precious and making them feel important is a must. A way of using AR in this case, would be to send them a pair of glasses and tablets containing the company collection. Content is updated from a distance, at any time.
Plus, presentations can be watched without human presence and still gather feedback and inputs. Clients get in preview the collection and have a unique moment.
...BY SENDING THEM A PAIR OF AR GLASSES